Is Delta 8 or Delta 9 Better?
Delta 9 has been the one big name of cannabis compounds out there. Every new cannabinoid is compared to it to evaluate its potential. While cannabinoids have a wide range of differences, Delta 8 seems to be the next best thing. So which is better between Delta 9 and Delta 8?
What is the difference between Delta 8 and Delta 9?
D8 and D9 are two cannabinoids found in cannabis plants. They are two of the many components of what makes a full cannabis plant. Just like you can't make water without hydrogen and oxygen, you can't have cannabis without Delta 8 and 9. The concentration of one and the other may vary, but they are still present.
Now we know how they compare, but how do they differ?
Legal status
Looking at it from a consumption perspective, the first big difference between the two cannabinoids is their legal status. Delta 9 THC has been gaining a little bit of legality at the state level but has been in limbo between the Senate and the House to be federally legalized since December 2020.
On the other hand, Delta 8 THC has been made federally legal by the 2018 Farm Bill but has known some drawbacks at the state level because of its ambiguity.
It's also relevant to add that drug tests do not differentiate between Delta 9 and other cannabinoids that may be absorbed similarly by the body. Therefore, this outlaws the use of D8 for some.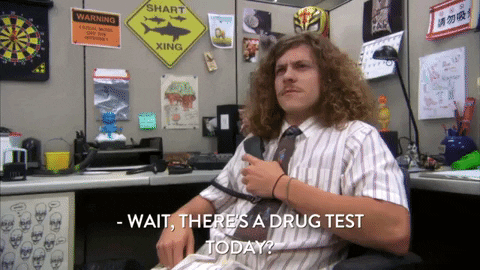 Let's make a wild hypothesis: you could buy a few gummies from Direct Delta 8 from a state where there are no restrictions on D8. Then, you plan a nice gummy-tasting evening on the weekend with friends but have a drug test the following Monday. While you were in your right to have fun on the weekend, your employer would not be able to differentiate the legality of your fun based on the test. Therefore, they can still take disciplinary actions.
Be safe out there and remember that Delta 8 can stay in your body for up to 3 weeks!
Potency
While the effect of D8 and D9 has been said to be similar, their potency is another differentiating factor. Indeed, Delta 8's relative potency is 2:3 compared to Delta 9. Therefore, the theory around Delta 8 is currently that you might need less of it to experience similar effects to Delta 9.
Effects and benefits
The benefits of Delta 9 are still debated today because of its ambiguous legal status. But the early research that is available suggests that it can help:
Ease the side effects of chemotherapy
Manage pain
But its psychoactive effects are double-edged: some seek the altered mental state provided by D9 to manage stress and other mood disorders, while some find those effects anxiety-inducing. The long-term effects of the cannabinoid are not yet known and documented.
If Delta 9 is fairly lacking in research and studies, Delta 8 is also still in a medical grey area. The early research that is available suggests that it can help:
Ease the side effect of chemotherapy
Pain management
Anxiety management
Memory consolidation, cognition, and neuroplasticity
Delta 8 or Delta 9, which should you chose?
As with any cannabis-derived product, you should always follow what is best for you and what feels right to you. Nobody cares what Kevin from Facebook thinks about your health. You (and your health providers) are the best to judge.
Take time to review what is most doable for you first. The legal status of those two cannabinoids in your state and your employer should be the first thing you consider. Whatever you choose, make sure you are staying safe.
Additionally, if your lifestyle doesn't allow you to stay in place after taking a supplement containing D8 or D9, you might want to look into other options. Remember, you shouldn't operate any machinery while taking any of those cannabinoids. If your lifestyle doesn't allow for that, maybe CBD would be a better bet for you.
Finally, take the time to test out both, always under doctor supervision, for at least 2 weeks each to find out what effect they have on you. Make sure to check in daily to notice the changes or lack thereof.
Learn more about anything Delta 8 by checking out our other blogs.